Survival Chinese is a course provided by TouchChinese online via Skype. It is an excellent way to build a basic Chinese vocabulary that will break the language barrier and allow you to communicate at work and in daily life. Our survival Chinese lessons are conversation-based, which allows you to learn in a natural, easy way.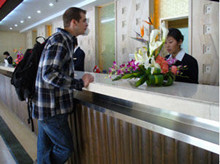 We have selected highly qualified, experienced teachers who are native Chinese speakers. They will teach you survival Chinese vocabulary and phrases. Some of the topics include: introducing yourself, talking about yourself and your family, having a simple conversation, booking a flight, visiting a doctor, shopping, booking a hotel room, going through customs at the airport, filling in forms, and more. We will also be glad to assist you if there are particular requirements you may have for a topic; we will design the survival Chinese lessons with those needs in mind.
With our expert teachers and stellar program, you will learn Chinese quickly as long as you practice what you've been taught. Sign up for a free survival Chinese lesson today!